Description
Available in Standard or Deluxe and in Black or Brown Colours
STANDARD STANDING MAT
IMPRINT CumulusPRO Anti-Fatigue Mat with proprietary Cushion-CoreTM Technology. Voted #1 Standing Desk Mat by Forbes magazine, you'll be amazed how much IMPRINT Comfort Mats reduce fatigue and the ache that comes from standing on hard surfaces. Give your staff (and yourself) all day cushioning comfort. Designed to encourage micro-movements which improve blood circulation and muscle stimulation. Non-trip design.
Durable construction combined with a resilient surface for longer life. 10-year warranty and 100% satisfaction guarantee.
Resistant to chemicals, abrasion and punctures
Easy to clean, anti-microbial top surface
Guaranteed not to lose support over time
Safe in the workplace. Bevelled edges, a non-slip bottom and solid one-piece, 100% polyurethane construction work together to reduce trip and slip hazards.
Bevelled, no-curl edges
Stay-flat memory technology
No-slip bottom
10 YEAR WARRANTY
Eco-Friendly. CumulusPro is manufactured without formaldehyde or toxic, heavy metals. Unlike PVC products, they're also free from noxious smells chemical leaching. Non-toxic and phthalate free No noxious smells or chemical leaching
DELUXE STANDING MAT
IMPRINT CumulusPRO™ [Deluxe] is a commercial grade Standing Desk anti-fatigue Mat designed for comfort while working. The CumulusPro Deluxe is made with Cushion-Core Technology which helps reduce fatigue and encourages movement while standing. This mat cannot be beaten on quality and design. Voted #1 Standing Desk Comfort Mat by Forbes magazine and the WireCutter.
If you're looking for an accessory that helps you get the most benefit from your standing desk then look no further. The CumulusPRO is designed to withstand constant use and maintain support over time. Proprietary Cushion-Core™ Technology prevents fatigue and dull ache associated with prolonged standing on surfaces such as concrete and hardwood floors.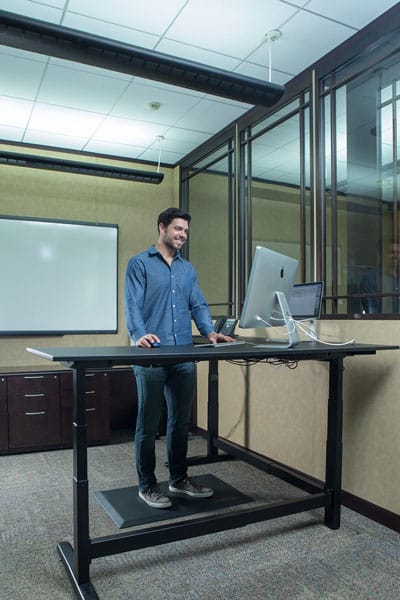 Lifetime Warranty – Never worry about your mat's quality and construction!
Base material 100% polyurethane
Dimensions 94cm x 62cm x 2cm
Available in Black or Brown